Continuing Education Credit Certified
Jun
2
Fri
Pregnancy, Labour & Baby Massage Training

@ Selkirk College Silver King Campus
Jun 2 @ 8:00 am
This is an ideal opportunity for Doulas, Midwives, Massage Therapy Students, Chinese Medicine Doctors, Massage Therapists, Early Childhood Development Workers, Daycare Workers & other Medical Professionals.  
Prenatal/Postnatal Massage
Focus is on Pregnancy massage and easing all the uncomfortable symptoms of pregnancy, including happy feet massage.  Participants learn to individually help pregnant people, couples and families. Christine will teach participants to instruct tutorials, sibling massage and interfamily labour and delivery teams.
Labour & Delivery Massage
Focus on easing the discomfort of child birth with hands-on massage delivered by a interfamily team of best friends, Moms, husbands, siblings or oldest children. Includes water deliveries.
Baby Massage
This level takes you from newborns to toddlers, special needs baby massage and other complications and challenges of preemies to palliative pediatrics.
Some complementary accommodation is available, call Christine at 250.505.4277.  Portions of this training may be recorded for Instructional use.  Certification upon successful completion. May qualify for your CEU credits, check with instructor.
Level 1 –
June 2-4 or June 9-11
Introducing all the basic concepts for pregnancy massage, labour and delivery, and baby massage.
Fri-Sun 8 am-6 pm, $299
Level 2 – June 9-11
Advanced pregnancy massage, treating all pregnancy symptoms, special delivery techniques and massage for babies with special needs, family massage including toddlers.  In addition there is an advanced hospital practicum with 24 hour labour and delivery possibilities.
Fri-Sun 8 am-6 pm, $299
Level 3 Instructor Training
(For RMT's, Medical professionals, and students that have completed level 1 & 2)
Students will be taught three levels of teaching tutorials,  living room workshops, one to one, small groups and large specialized groups (Example: dad's only, grandparents, siblings).
June 2-11 (Both Weekends)
Fri-Sun 8 am-6 pm, $598
Classes held at the Silver King Campus, Nelson BC.
Please pre-register: 250.354.3220, nelsonce@selkirk.ca, selkirk.ca/ce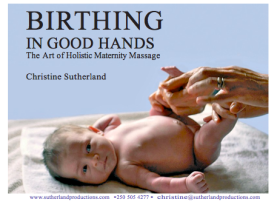 Christine Sutherland is a Registered Massage Therapist and Massage Instructor.  She started the Canadian Institute of Baby Massage in 1985 and has taught infant massage around the world. 
Jul
14
Fri
In Good Hands Palliative Massage Training

@ Selkirk College Silver King Campus
Jul 14 @ 8:00 am – Jul 21 @ 4:30 pm
Training for Hospice Workers & Volunteers, Massage Therapists, Health Professionals, Caregivers, Nursing Students & Families & Friends.
With
CHRISTINE SUTHERLAND RMT
SELKIRK COLLEGE, NELSON, BC, CANADA
• Effective, safe massage & hydrotherapy for the palliative, chronic disabled, terminally ill
• Proven massage techniques for at home or hospitals for end of life or chronic care
• Underwater massage for palliative patients
• Palliative Pediatrics & Wheelchair Massage Intensive
• Learn to teach palliative massage classes for instructor training
• Teach tutorial practicums in the local community
– Learning film and social media teaching methodology
$650 (Certificate upon Completion)
For More Information and to Register Contact Selkirk College, Silver King Campus 250-352 6601
Christine Sutherland
The Canadian Institute of Palliative Massage
P.O. Box 707, Nelson, British Columbia, Canada. V1L 5R4
Email: csuther@netidea.com
CALL: 250 505 4277 website: www.sutherlandmassageproductions.com
CHRISTINE SUTHERLAND
Christine Sutherland is a Registered Massage Therapist and Massage Instructor in Ontario, Alberta and British Columbia. She is the co-Founder of the Sutherland Chan School and Teaching Clinic in Toronto, Ontario, and the Director of the Canadian Institute of Palliative Massage and the Canadian Institute of Prenatal and Baby Massage. She was a speaker at the 1993 BC Hospice Palliative Care Association Conference and AGM and presenter in 2008, 2009, 2010. She is a graduate of the Langara Film Program and the Gulf Islands School of Film and Television. She has written two books called Dying In Good Hands and Birthing In Good Hands, and completed a three year training program at the Gestalt Institute in Toronto in 2013. Christine teaches globally. She was a presenter at the International Congress of Palliative Care in Montreal, September 2014 and one of the keynote speakers for the Cayman Island Hospice Conference in October 2014, currently teaching her specialties of massage for life's cycles of arrivals and departures in South Africa and Guatemala and Haiti. Christine teaches in Canadian Hospices across the country. She is the Director of World Wide Massage Services Inc. and the founder of Canadian On Site Massage Services.
All Nursing and Massage Therapy Students attend basic program for work exchange plus registration fee only.
Sep
1
Fri
In Good Hands Palliative Massage Training – Toronto

@ To be announced
Sep 1 @ 8:00 am
THE CANADIAN INSTITUTE OF PALLIATIVE MASSAGE
 With
THE INSTITUTE OF TRADITIONAL MEDICINE
Presents
IN GOOD HANDS PALLIATIVE MASSAGE PROGRAM
Training  for Hospice Workers & Volunteers, Massage Therapists & Massage Students, Health Professionals, Caregivers, Nursing Students, Families, Friends
In September 2017. Dates to be announced.
With
CHRISTINE SUTHERLAND RMT
AT
THE INSTITUTE OF TRADITIONAL MEDICINE, TORONTO, ONTARIO
Effective, safe massage & hydrotherapy for the palliative, chronic disabled, terminally ill
Proven massage techniques for at home or hospitals for end of life or chronic care
Outreach Practicum at Vermont Square for Wheelchair Massage Training
Learn to teach palliative massage classes & tutorial practicums for instructor training
Experience Digestive, Circulatory, Respiratory Palliative Massage
Learning film and social media teaching methodology
$299 PER WEEKEND (Certificate upon Completion)
Contact Christine Sutherland to register at csuther@netidea.com or call (250) 505-4277