Birthing in Good Hands
Birthing in Good Hands – Holistic Massage for Pregnancy, Labor, and Babies, is now available as a print and ebook from all major retailers!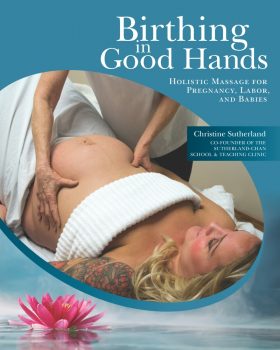 Christine Sutherland, co-founder of the Sutherland-Chan School and Teaching Clinic, teaches the basics of prenatal massage for healthy pregnancies. Use the healing power of touch for a healthier, happier pregnancy. Hundreds of photos and illustrations clearly illustrate techniques that even beginners can master. Christine also includes real-life stories that showcase how the power of massage helped women through their own pregnancy journeys.
If your partner or loved one is expecting, this book is for you.
Buy the book through your choice of platform here!
Amazon (Canada)
Amazon (USA)
Kobo
iBooks
Indigo